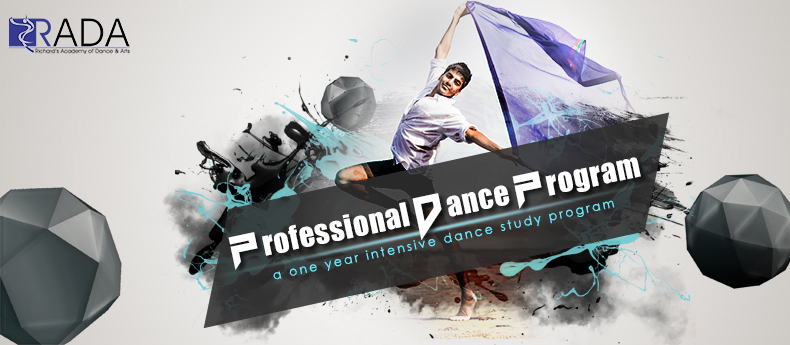 Overview:
PDP – Professional Dance Program© a one year intensive dance study program.
PDP is an intensive one year dance study program where each dancers would be trained, mastered, and nurtured into a gaudy performer. An array of internationally trained faculty members would be training the dancers along with the Master classes of Mr Richard (the director and founder of RADA) who is believed to have transformed many dancers' dream into reality. Under his supervision and education in dance there have been many dancers who are fulfilling their dreams and surviving professionally making a career in dance in their respective hometown.
PDP is a dream for all dancers. It is a home for all who wants to live a life of a DANCER. A one-stop-shop to every need as a performer. Dancers will not only complete their basic level of education in dance but they will also get the privilege to learn dance ethics, manners and a lot more things about life which is necessary for an artist because as we all say, before being a great artist we all should know how to become a great person. In PDP the dancers would also get knowledge in Yoga, Musicality, Sound, Lights, Choreography composition, Dance Theory, Dance Literature, Dance Pedagogy method and what more, PDP students will get an International accreditation from the teachers of London and Spain.
It is truly one of the best and most affordable dance course which you would ever be able to find.
If you are hungry, passionate and dedicated to learn dance intensively then PDP is the right choice.
Program Details:
Master Classes with Richard D'Costa.
A one year Elementary level dance certification which will be attributed by the teachers from London and Spain.
Learn more than 5 different dance styles in a year.
Get a chance to be a part of Richard's Academy of Dance & Arts core company or in the performing company.
Hands on training during events for managing live dance shows.
Knowledge about Yoga, Musicality, Fitness, Lights, Make up, Stage Designing and much more apart from Dancing.
Get marketed by RADA as a talent, for a year after the completion of PDP to get any kind of Dance related job.
Get to improvise your own dance choreography in Improvisation classes.
Get to learn several dance warm up techniques and healing techniques.
Appear for dance exams both theory and practical to assess your self-growth.
Dance videos to be sent abroad for grading.
A proper guidance to step into the performing arts industry and taking this as a career.
Special counselling sessions to discuss about all the problems which stands as a hindrance in the path of your Dance career.
Discussing all the career options being a dancer.
Learn dance theory, dance literature and autobiography of several top notch dance pioneers.
Watch several dance videos and educational dance movies to gain more worldwide International knowledge about Dance.
Meet several dancers and dance educationists from the performing arts industry and get a wide spectrum of exposure in the field of dance.
Tuition:
Students applying for this program need to appear for an audition before paying any kind of fees.
1 year tuition fee for PDP© is Rupees Nighty Thousand Only (INR 90 000) which can paid partly also by the students. For part payment options please contact the office. Financial Aid and Scholarship also available for this program, for further information on this please contact the office.
How To Apply:
Include the following in your application:
A one minute dance video defining your strongest dance style along with a video where the applicant is performing a box split, parallel split, plié, any kind of leaps or jumps and showing his/her pointé on the foot.
Download the PDP© Enrolment Form, fill it completely and either mail it to us or come and submit it to us in one of our studios, taking a colour printout of the same.
Along with the mail, send us a brief essay defining your future goals/ambitions, personal objectives if any, why do you want to train along with us, what does Dance mean to you and how dedicated are you for the course?
After the acceptance of all your Application materials, RADA™ will be sending you a confirmation mail or give you a call, and give you a date for Choreography round.
In the Choreography round you will be taught a simple dance routine based on Jazz and Contemporary dance style which will be assessed in a group personally by the Director and Founder, Mr Richard D'Costa.
Contact Us:
For more details on PDP© write to us at pdp@richarddcosta.com or call us on +91-99300 2994 /99300 76997
FAQ:
Why PDP© and not any other course in a different dance company?
Ans: We are a performing art company and we do not sell our art, so if you think you want to compare the teaching quality, visit one of our studio and get to see LIVE demonstration of our classes and take the feedback of ex students who are working in our company now. You can also read the brochure to get an idea about the syllabus and the subjects covered in this course.
Will I be able to become a great dancer or performer after this course?
Ans: When you enrolled in nursery school at childhood did you or your parents asked them that you will become a successful doctor or engineer? No one can give guarantee of your own career, you need to take the responsibility of that. We will give you the best training after which you need to prove yourself in the creative market with the talent you have and education you received.
Is there any proper dress code for the classes?
Ans: Yes, there is a proper dress code for each subject. For Ballet the girls need to tie their hair in a tight bun and wear a leotard with stockings and ballet shoes and for boys you need to wear tight lycra shorts with a white coloured tight vest and neatly hair cut with Ballet shoes. For Jazz class Black Jazz or track pants with a comfortable T-Shirt or t-Back vest (for girls). Other details on class attire can be received from the concerned teacher itself.
Is there any proper age to apply for this course?
Ans: Anyone between the ages of 16-30 years old can apply for this program.
Will I be able to win any dance reality show or become a successful Choreographer?
Ans: Where there is a will, there is a way. But this course is not for you to win any shows or become successful, it is for you to get the RIGHT knowledge and then utilising that knowledge you can win the heart of millions in the future.