The Academy
RADA The Academy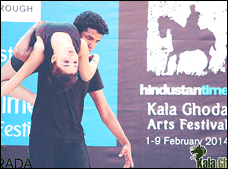 RADA™ core company students performing in Kala Khoda Arts Festival 2014, Mumbai.
RADA has been a contrivance of Richard in the year 2008 and he brought it into the limelight in the year 2011. With just a group of 5 students he launched RADA to impart proper education of Dance so as to elucidate the glitch of non- trained dancers in the Indian dancing industry. He was envisioning on the idea of RADA since early 2008, but due to several hindrances he never gave this idea a full-fledged conclusion. But on the year of 2011 almost nearing to his birthday October 6th he gave this idea a prominence and finally launched RADA™. He wanted to have a small academy to train few students on whom he can put all his efforts to make them gaudy performers and pass on all the knowledge which he gained in his life. He started RADA with only 5 students and with a flash of an eyelid by the end of 2012 he had already gained 55 students in his academy frolicking around his dance branches to learn International dance styles Jazz, Contemporary, Modern, Funk and Bollywood. They were getting the training hands on from Mr Richard D'Costa and was learning the nitty-gritty and crux of Ballet, Modern Dance its techniques and exercise pattern and much more. Soon after those students passed on to become instructors and followed the trend to teach in his academy and till date he has several senior students who are passing the one year intensive dance study course or six months part time dance study course and on side teaching in his academy or assisting him in his work. A lot of dance enthusiast directly applies for the post of instructorship and they gets selected after a series of auditions and interview process personally taken by Mr Richard D'Costa. Richard always encourages children to take up dance very seriously from a tender age because according to him "Education imparted at the tender age becomes a habit and grows on to become a talent henceforth."
Mission & Vision
Mission:
• To become one of the largest, popular and disciplined dance academy in India and abroad by imparting quality dance education through proper training leading to perfect dance technique, discipline and style.
• To inculcate proper dance discipline as well as a proper personality development in students.
• To offer client the best quality of service as per international standards.
• Aiming towards maximum client satisfaction.
• To bring international styles, faculty and technique to India which will lead to awareness and progress of 'Dance' as a profession.
Vission:
• We will empower dance enthusiasts by imparting the RIGHT knowledge of dance and bring about a change in the conservative and orthodox mentality of people to take Dance as a serious career.