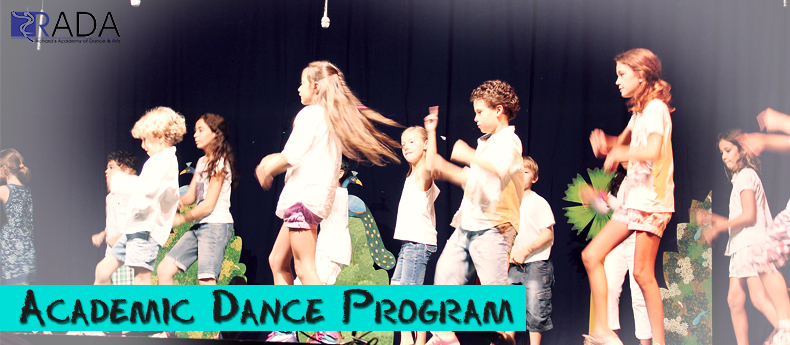 Overview:
ADP- Academic Dance Program©
Schooling of a child is as important as teaching the child to walk. So RADA brings an exclusive and innovative program, joining hands with schools and education houses to teach them dance in their own institution so the child does not have to take out separate time to travel to a dance class and learn dancing. This course includes an intensive study of basic Jazz, Bollywood, Contemporary and Hip Hop. RADA is proud to be a dance faculty in SVKM, CNM and French International School in Mumbai for the academic year 2012-2013.
The ADP classes or workshops are conducted by the senior instructors and faculties of RADA who has been formally trained in styles like Ballet, Jazz, Contemporary, Hip Hop and other aspects of the performing arts industry and exclusively got trained hands on by Mr. Richard himself.
The class begins with a Jazz or Contemporary based warm up, followed by the techniques of basic Ballet and other styles to be taught in the class. Then the students are taught a dance routine on one song which is followed for a couple of days more, and changed later on. The class ends with a general prayer or meditation to cool down physically as well as mentally. The students are taught the proper way of life, discipline, class conduct, etiquettes along with dance choreography.
Academic Dance Program is a tailor made course only for academic institutions or organisations who wants to tie up with RADA to conduct performing arts classes in their own premises.
Program Details:
Students get to learn more than 2 different styles in one structured workshop program.
Students develop a skill of performance and self-confidence.
Personality grooming.
Stress buster, as dance has been coined to release and boost the happy enzymes and endorphins in our body by International doctors and researchers.
Get master training by Mr Richard himself who is the director and founder of RADA™ and have trained several celebrities.
Get scholarships and much more from RADA ™ depending on the class progress of the students.
Get your academic organisation brand name to a certain height by collaborating with an International standard dance brand which is lucrative in teaching as well as financial way.
Lastly, get the RIGHT knowledge of dance in an educative yet fun way!!!
Tuition:
There are various ways to accommodate the workshop in your institution. Some of the least expensive ways are estranged below please go through it and for any kind of further clarification feel free to contact our office.
Per Student Basis: We charge per student outside in our studios but academic organisation charges are different so we keep a standard fee after mutual understanding (each class duration is of 1 hour or 1 hour 30 minutes).
Bulk Amounts: In this situation the college/school pays us a bulk amount of money and they are free to charge as much as they want to the students and we will teach as many students can get accommodated in one class room. Once we get the amount sanctioned from the organisation we are liable to render the teaching to as many students the organisation provides us. In this case calculating all the efforts, creative labour and time put by us, we will charge a bulk amount after deciding upon where your academy is situated, how many hours of training we are rendering and other relevant details.
How To Apply:
Include the following in your application:
Give us a call and book an appointment with one of our Manager.
Come to a conclusion on the pricing after a mutual agreement.
Sign some formal paperwork (MOU, Invoice etc.)
Fix up a star date.
5. RADA's instructor reaches the venue 15 minutes prior to the class on the fixed date and we start the class thereafter.
Contact Us:
For more details on ADP© write to us at adp@richarddcosta.com or call us on +91-99300 2994 /99300 76997
FAQ:
Will my college/ school students get any certificates?
Ans: Yes, RADA™ will provide a Certificate of Participation to all the students who registers in the course and attends at least more than 6 classes.
Can RADA™ be an official dance brand to conduct dance classes for the students of my organisation?
Ans: RADA™ has been a dance faculty for schools like CNM, SVKM and French International Schools. So RADA™ can definitely be an official dance brand to represent your school. But however you need to contact the office for a formal meeting with one of our managers.
Will RADA™ choreograph the school or college festival dance acts if asked for?
Ans: Dance acts in a festival of College and School is completely a different entity altogether for which our labour input is different, and effort put is much more than the workshops. But if we get a deal of the ADP© we can work out something in a very nominal and discounted rate.
Will the teachers and staffs get any benefits from RADA™
Ans: Yes the teachers and staffs of your organisation will get 2-3 free dance sessions from our side as a stress buster therapy.