Biography Of Richard D'costa
Richard D'Costa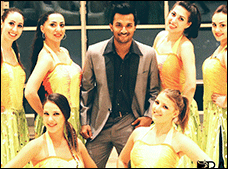 Richard D'Costa with some of the International performers in an event in Hotel Sahara Star, Mumbai, 2014
Background Information
Birthdate
06th of October 1989
Calcutta, West Bengal, India.
Current City
Mumbai, Maharashtra, India.
Occupation(s)
Artistic Director, Choreographer, Performer, Singer, Songwriter and Actor.
Religion
Roman Catholic, Christianity.
Parents
Mrs Alice Rekha D'Costa
Late Mr Bernard Swapan D'Costa
Siblings
Ms Madonna Priyanka D'Costa
Genres
Pop, Soul, RnB, Blues, Jazz Fusion, Indian Contemporary, Funk, Bollywood Soulful and Conventional music
Dance Styles
Street Jazz, Jazz Funk, Modern and Lyrical Contemporary, Bollywood and Commercial Hip Hop.
Instruments
Vocals
Brands or Productions associated with
SOL Productions, Essel Vision, Rapid Waters Pvt Ltd, Star Plus Channel, Balaji Productions etc.
Years active
2000 to present
Website
www.richarddcosta.com
Richard D'Costa - an Artistic Director, Choreographer, Performer, Singer and Songwriter. Persevering and reliable is what we can associate with this young INDIAN. Born to a pious catholic family in Calcutta, and having Performing Arts culture within his family Richard had discovered magic in his feet and the intuitive rhythm to groove to any song right from the tender age of 12. It has been almost 13 years for him now, to see and work in this performing arts industry and with the ample amount of experience in his belly he is all set to rule the dance and music industry in the upcoming years.
Family Background
Richard is born in a Roman Catholic family where arts and education is given equal importance. He got his artistic roots down through his family. Richard's elder uncle, James was a Guitarist, younger uncle, Eugene was a maestro in Violin who also played for the inauguration ceremony of Pope John Paul II during his visit in India. Richard's Grandmother, Margaret, used to be a Latin Singer in the church choir, his mom, Mrs. Alice D'Costa has also been formally trained in Kathak and Bharatanatyam till 4th yr respectively and also in Indian Classical music. His sister, Madona, has also been trained in the same dance forms till 6th yr and have been a classically trained singer. His dad, Mr. Bernard D'Costa, was a virtuous Saxophonist and was a choreographer in his young age in forms like Rock and Roll, Disco, Twist, Swing etc. Though his family members were all so artistic, but nobody took the courage to follow this stream for the uncertainty of the profession. Everyone chose a different path henceforth. His Grandmother started stitching work and nursing for the family's financial breakdown in the 1960's and 70's after the demise of his Grandfather at a very early age. His elder uncle went to Dubai to do odd jobs in the field of cooking to support the family, and he landed up being a Food & Beverage Manager in some posh Pub where often Bollywood celebrities used to spend their leisure time. His younger uncle also followed the suit and went abroad after completing his studies to work in the cooking industry. On the other hand his mother's education and dance career was doomed due to the family's sudden financial drawback and hence she was married to Mr Bernard D'Costa who was a notable Chef in the 1980's in the UAE and later on moved to America. His dad has worked as a top Chef for some major brand name hotels like the Inter Continental, Hilton, Cambridge Beaches and many more. He served the British Government working in the Bermuda Island for almost 10years before he died.
At present Richard's younger uncle, is a cop in Bermuda Island serving the British Government and married to an American lady. They have a daughter and living a very exultant life up there. His elder uncle on the other hand is currently managing and running a restaurant named Begum Palace, in Madison, New Jersey, USA.
Early Life and Childhood
As a child, Richard was always the quiet, obedient and listener kind of kid. He used to play a lot of pranks and have been very mischievous but he was very silent at his pranks so lot of people around him could never catch up with his tomfoolery.
At childhood he was dreaming of becoming several things from Pilot, to scientist and to Automobile Engineer and many more. He was never interested in studies but he was a smart tot who could get away with studying only few hours and score good marks in his exams. He was an Artist since the time he developed sense. First at his painting skills, then poetry and school elocutions and then dance and singing. Everything related to art he used to do, he was genius, but with studies, he was never interested. Though he used to paint, play cricket for his state, or swim or do school drama, his major inclination was something else. His eyes was wedged at becoming a star performer. A performer who can not only dance but can act, sing, direct, choreograph and perform. He was profoundly influenced by Michael Jackson, the King of Pop. His dad had made him familiarise with lot of western music since an adolescent age. Music of ABBA, Boney M, Deep Purple, Pink Floyd, Stevie Wonders, Elton John, Elvis Priestley, and many more Pop sensations were filling his room's music cupboard for which he was deeply moved and amazed by the glory of the Performing arts industry. So at the age of 12 he was shown doors to the performing arts industry and since then there was no look back.
Richard studied in an Irish brother's school, St Mary's Orphanage and Day School, Calcutta. He later changed his school to Don Bosco, Park Circus Calcutta but he again came back to his old school to compete his further education till he completed his high school in St Mary's under Indian School Certificate board, New Delhi.
Richard was known to have the best dancing feet and could choreograph a dance whether it was for the tiny tots of his school or his very own friends and students. Whether it be an inter-house dance competition or inter-school event he has bagged the award of best dancer everywhere. Richard knows how to win people's heart over with his talent, humility and cheerful smile. Richard has not only been a good student at school but he also knew how to balance his duties and studies with his keen interest for his first love- dance. Right from the onset he knew how to juggle his commitments, be it his tuitions grades, dance practices, choreographing show or singing.
Fighting through the way of Success: 1990's to 2000's
Since childhood, Richard had very less friends and his childhood was more in the house practising dance and studying. He sometimes regret not to have a childhood like his other friends but he says he have enjoyed the glitz and fan following for his performances on stage at such a young age. His leisure times was mostly writing songs, poetry, painting, or playing some video games. He was hardly allowed to step out of his house without completing his studies or practising his dance. Dance and singing is his passion and his forte lies in dance forms like Contemporary, Jazz, Modern, Bollywood Funk and Freestyle Hip Hop. He is a singer in the genre of Jazz, Blues, Pop, Soul and many more conventional Bollywood songs. He still remembers, that when he used to get a break from his studies he used to put on his Sony Walkman and play songs or put on Super Mario game in the Mitashi Video Game Console attached to the TV which was a big hit in the 1990's. Later he got addicted to PC games a lot and his favourite game has been the GTA series.
He has been mostly trained inside the closed doors of his house. He wanted to train more but due to a lot of financial ups and downs he could not afford to train outside in some noble and high class dance academy. He sometimes feels amused to certain children who had got both the money and training from such aristocratic dance classes still they do not respect dance or take this profession seriously. Those days to self-train inside the house was also not very easy. People had no access to YouTube, IPad, Smart Phones or any such gadgets which could make his struggling life a bit easier. Creativity had a different meaning those days, it wasn't so easy just to play a video on YouTube and copy the entire choreography or watch some Singing Tutorial and learn singing. But he managed his way because of his sheer dedication and passion.
This go getter set out for glam city Mumbai in the year 2009 and there has been no looking back since then. He has had both fun and hard days especially when dance is still not regarded as a long term profession in India. Coming from a middle-class well educated background where education is paid a lot of heed to, his family insisted that he continue his education for a well-paid job in the corporate world and keep dance as hobby. But as the saying goes ''Money can't buy happiness'' for Richard it has always been his passion for dance that has mattered to him and not something merely done to earn a living. All he ever wishes for is that he could bring about a little flexibility and change in the conventional outlook of people where the joys of dancing may be more appreciated and accepted and that they discover their creative side for he believes that ''Everyone has been blessed with some or the other talent. It is just left to him to discover it, appreciate it and nurture it to the best of his ability''. Though he wanted to pursue his academics in science and he loved Physics and Biology, but he could not study further due to the financial constrain in his family after age of 19 for some major crisis which changed his life drastically.
Major crisis and consequences: 2000's to 2008
He started at a young age of 12 performing live in stage shows and concerts. In front of 1000 and sometimes 10000 people watching and cheering for his performance. Facing such scores of crowd at such a young age was not easy to handle, it required a lot of hard-work and very wise mentorship which was done by his Mother mostly. He lost most of his childhood and teenager period in this show field and he often told himself he has the adulthood to enjoy ahead, just to console his inner self. But little did he know that his adulthood will also be snatched away, for his fate had some other plans formulated for him.
After a hard work of 8 years, later on when he grew up and he shifted his base to Mumbai he appeared in a reality show called JUST DANCE in Star Plus channel and got an opportunity to work under big names like Hrithik Roshan, Vaibhavi Merchant, Farah Khan and SOL productions. But sadly on his famed journey he could not hold his dad's hand for a long time. He lost his dad at a young age of 19 and he boastfully acclaims that whatever he have achieved in this competitive city, Mumbai, it is all for his own hard work and dedication. He had no Godfather or father to help him financially or emotionally. Though his dad expired, he still performed at a show on the 7th day of his dad's demise, because for him he believes a performer is always a performer, in his death bed also he is performing death. This was a major crisis in his life which turned his life upside down and he had to stop his education, dance training and started to earn through his talent just to support his own-self in Mumbai all alone.
Richard has always been a multi-faceted boy amongst his family. Apart from dancing and singing he has also won a state level bronze medallist in Painting. He has also played Cricket professionally under the 19 age group cricket team of Calcutta in a private club and is proud to play cricket matches in the world renowned Eden Gardens Stadium, Calcutta.
Training and Dance Education
| Dance Style | Teacher | City/Country | Teacher's info |
| --- | --- | --- | --- |
| Ballet | Prasanna Saikia | Calcutta | Trained in Cecchetti method of Ballet and studied dance from Off-Jazz, France. A student of Gianin Loringett. |
| Jazz & Contemporary | Prasanna Saikia | Calcutta | Trained in Cecchetti method of Ballet and studied dance from Off-Jazz, France. A student of Gianin Loringett. |
| Hip Hop Foundations | Tapas Das | Calcutta | Trained from New York (Broadway Dance Centre, Alvin Ailey American Dance Theatre and Steps on Broadway). |
| Old School and House | Prosenjit Kundu | Virginia | Old School Hip Hop and House Dance specialist from USA. A BFA degree in Dance from Virginia Commonwealth University, Richmond. Have been a judge in the Indian Street Dance show, FOOTLOOSE aired in Channel V. |
| Commercial Hip Hop | Jonathon Bosco a.k.a JB | California | A BA in Communication and Film Production from Pennsylvania State University. He has also assisted Nakul Dev Mahajn a famed choreographer of So You Think You Can Dance. Worked with channel like FOX, MTV, ZeeTv, Sony and many more. |
| Intermediate Ballet & Modern Dance | Trev Neyo | Singapore | Trained under Shell-National Arts Council and Georgette-Chen scholar Vincent Yong. Also trained under scholarship programs with LA Dance Connection, ECNAD, DanceArts, Jitterbugs Swingapore and many more. |
| Afro Jazz, Modern Jazz, Bollywood and Indo-Jazz | Shiamak Davar's Institute for the Performing Arts | Calcutta/ Mumbai | World's Largest Bollywood Dance Company. Shiamak is an Internationally acclaimed, Bollywood Choreographer. Being the first and foremost Indian Choreographer to get International styles like Jazz into the Bollywood industry. |
Awards and Accolades:
Richard does not believe in awards, he only believe in rewards. But fortunately he has bagged few petite awards:
Winner in HORLICKS WIZKIDS 2007, Calcutta
Winner of Dabur Red The Great TTIS Challenge as a Solo Dancer.
Runners Up of Dabur Red The Great TTIS Challenge as a Group of Richard.
Winner of JOSEPHSYNA event with his group, in St Joseph College, Calcutta.
Best Choreographer award in the college level for choreographing college fests and winning most of them.
Winner in AUXIMARYLUS event of Auxilium Convent School, Calcutta.
State Level Bronze Medalist in Modern Art and Landscape painting in West Bengal.
JUST DANCE top 30 in Star Plus.
Honorary awards from over 20 colleges in Mumbai.
Adding to this he have won over 32 more awards and certificates and about 10 more newspaper articles.