The Company
RADA The Company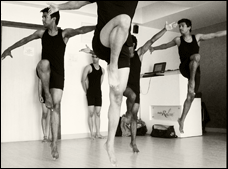 RADA™ senior company students performing some jazz dance passes across the floor in an intensive training class conducted by Richard D'Costa.
RADA ™ (Richard's Academy of Dance & Arts) is an International standard Dance brand, based in Mumbai city, which has its clientele and networks across Dubai, London, Spain, USA, Antwerp city and currently working on for more collaborations around the World. It is a Jazz and Contemporary based dance company which also focuses on styles like Modern, Bollywood Funk, Commercial Hip Hop, Funk styles, Latin and much more.
It has been collaborated with Corporate brands like Shoppers Stop Pvt Ltd, CROMA, Pantaloons, ICICI Bank etc. and have also been a dance brand partner for over 50 colleges in India viz. BITS Pilani Goa, NITIE College Powai, IBS Powai, St Xaviers Mumbai, JJ Medical College, Dr Nair Medical College and many more. RADA has also served as a dance faculty in schools like Chatrabhuj Narsee Monjee School, Mumbai, Shree Vile Parle Kelvani Mandal School, Mumbai and French International School. RADA has choreographed for more than 20 colleges/schools in India for dance competitions and have managed to get them a prize in almost all of them which includes Sophia College, Mumbai, LALA College, Mumbai, Techno India College, Calcutta and many more
RADA™ has done various stage shows and events, have performed for lot of corporate brands and designed live concerts. It not only directs a wonderful stage act but this International standard Dance brand tries to give its audience an experience of the real magic of dance through their performance. We cannot dissent from the statement that, within a few years of time RADA will put its own mark in the dance world and create a niche for itself and all the people working in it. According to the director and founder of our company, Mr.Richard D'costa, he believe in the words of Leonardo Da Vinci that "Simplicity is the ultimate Sophistication", thus his Choreography and stage acts are very simple yet very captivating which keeps the audience grooving.