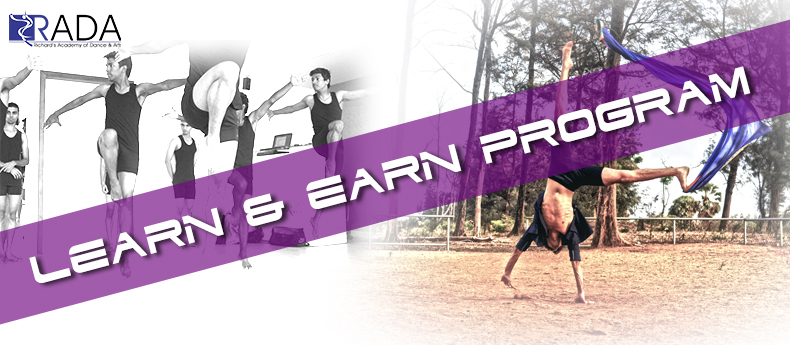 Overview:
LEP- Learn and Earn Program
Learn and Earn program is a scholarship based dance study program, where the students or applicants are selected after a process of auditions taken by the senior company members and Richard D'Costa himself. It is a fully/partly funded scholarship program where only applicants with an elementary level of knowledge is selected to study and perform in shows or manage classes or given other responsibilities to accomplish against which they will be paid (please note RADA™ will give you almost a free training and classes which costs a million in the market in today's date so considering that fact your payment will be not according to the standards of the senior members of the company. If you get selected in the core company, thereafter your payment mode will also change and increment is possible in that case.)
LEP™ students have to complete a training of at least 4-6 hours per week and assist for at least 4 hours per week and conduct 2 classes of RADA™ so as to get well trained. Compulsory classes to be attended by the students are – Ballet, Jazz techniques, Jazz Choreography, Contemporary techniques, Contemporary Choreography and Richard's master classes.
Program Details:
Master classes by Richard D'Costa.
Get trained by the best of the best faculty in the city and also from abroad in special workshops.
Get updates about all the special workshops happening in the city and attend those in a discounted rate.
Learn how to take classes, how to assist Choreographers and make class routines.
Learn how to choreograph in front of camera and how to become a choreographer for stage, for feature films and music videos.
Groom yourself, Personality Development and make yourself more confident to face the crowd in the competitive industry like Bollywood.
Get paid in shows and travel with the team for its projects.
Get absolutely free training and advices for your career and get paid for your work.*
Tuition:
This is a complete scholarship based dance course so there is no fixed tuition fees applicable. For applying please follow the How To Apply section.
How To Apply:
Include the following in your application:
A one minute dance video defining your strongest dance style.
Send us a mail writing a brief essay defining the future goals/ambitions you have, why do you want to be a part of the performing arts industry or glamour industry? Why do you want to train along with us? What does Dance mean to you and how dedicated are you for for this course? Any other personal relevant details you want us to know please feel free to add up.
After the acceptance of all your Application materials, RADA™ will be sending you a confirmation mail or give you a call, and give you a date for Studio Interview Round.
In the Studio Interview Round you will be asked few question related to your dance career. Why do you want a scholarship and how much do you want it. We would also like to see if you are creditable enough to earn the Scholarship and can RADA™ use your talent for the growth of the company as well as your own growth. So applicants have to be prepared prior before appearing for this round.
Contact Us:
For more details on LEP© write to us at lep@richarddcosta.com or call us on +91-99300 2994 /99300 76997
FAQ:
Do I need to sign any kind of contract with RADA™ to continue with LEP?
Ans: RADA™ do not treat artists like slaves, you are free to work or take classes somewhere else too. We just want to be your priority when we are investing so much time and money after you to train you and make you a better dancer.
Is the attendance compulsory?
Ans: Yes, considering the significance of the program if you miss more than 3 classes in a month then you will be restricted to continue this program at all.
Can I teach or show the dance or routine taught inside the class?
Ans: Yes definitely you can perform the class routines somewhere else but regardless of using it for any kind of commercial use stating it of your own creativity and not giving the due respect and credit to your teacher. If RADA™ finds out that you have been using the class materials outside for your personal benefits and putting videos in YouTube stating that it is your own creativity then you will be debarred from the entire company forever.
Can I travel outside Mumbai or India for shows to earn extra money?
Ans: Yes you can. Just submit a letter of leave to the office and let the concerned person, who is assigned to be the coordinator for your course, know that you will be absent for the said period of time.